Aiutaki is the name of one of the Cook Islands, north of Ratongga. This one has a population of approximately 2,000. The place is the second most visited island of the Cook Islands. The main village of it is Arutanga or Arutunga on the west side.
Sometimes, Aitutaki is described as the "almost atoll" for it consists of the lagoon within the encircling atoll, with the significant area of high land on one side. This one has the elevation of about 123 metres with the hill named Maunga Pu close to its northernmost point.
Tapuaetai Aitutaki-Atoll is subdivided in 8 districts. All of them are further subdivided into 19 tapere or land hldings by tribe lineages. All 8 districts are Amuri (Te Upoko Enua), Nikaupara (Te Maru O Toi), Vaipae (Te Vaipaepae O Pau), Ureia (Uriuri A Punga), Tautu (Titi Ai Tonga), Vaipeka (Te Arekarioi), Arutanga (Rutanga O Te Toa), and Reureu (Te Mata O Teerui). As for the 19 tapere, here is the list: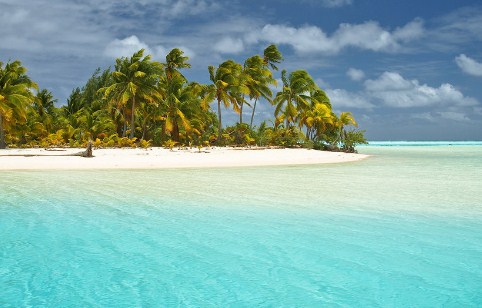 1. Amuri District
Amuri Tapere
Punganui Tapere
2. Anaunga District
Anaunga Tapere
 Punoa Tapere
3. Arutanga District
Arutanga Tapere
Reureu Tapere
Nukunoni Tapere
Ureia Tapere
4. Avanui District
Avanui Tapere
Vaipeka Tapere
5. Taravao District
 Taravao Tapere
 Vaiau Tapere
Vaiorea Tapere
6. Tautu District
 Mataotane Tapere
 Tautu Tapere
7. Vaipae District
Oako Tapere
 Vaipae Tapere
8. Vaitupa District
Taakarere Tapere
 Vaitupa Tapere
Tapuaetai Aitutaki-Atoll is known for its turquoise central lagoon. It is the uninhibited islands and palm fringed beaches. Another pro is that until now it has been spared by mass tourism. It is important to know that there is an old chruch (the oldest in the island) and some gigantic Banyan trees.
Tapuaetai or One Foot Island can be described as the small islet in the south east of the lagoon. This one is often said to be the most important attraction. The place is regarded as providing the visitor with the best views of the Aitutaki lagoon and, depending on the tide, one is able to walk on the sandback the decent away from Tapuaetai. In fact, the trip to this island is the most frequented trip available on Aitutaki. In June 2008, Tapuaetai or One Foot Island was awarded "Australasia's Leading Beach" at the World Awards held in Sydney.
Aside from the government hobs, one of the largest source of income of locals is tourism. This one has started to climbed recently with the exposure of Aitutaki given by the travel programs. In addition, the recent addition of the newly built resort has helped to increase tourism numbers.
Apparently, the major island of Aitutaki occupies the northern part of the atoll, which is roughly triangular in shape. As for the minor islands, they are part of the perimeter of the lagoon. All of the islands include the main island and its peninsula Ootu. All of them are listed starting clockwise from the northernmost point of the atoll.