Thanks to strong demand for rental homes across the United States, the multi-family development industry has been growing at a steady and increasing pace since 2021, after the end of the COVID-19 pandemic. Today, multi-family development plays a crucial role in meeting housing needs in urban and suburban areas.
The National Multifamily Housing Council (NHMC) reported that with an increase in multi-family permits of around 27.4% to 566,500 in 2021, the multi-family industry has also started to experience an increase of around 22.1%, reaching 460,100 units.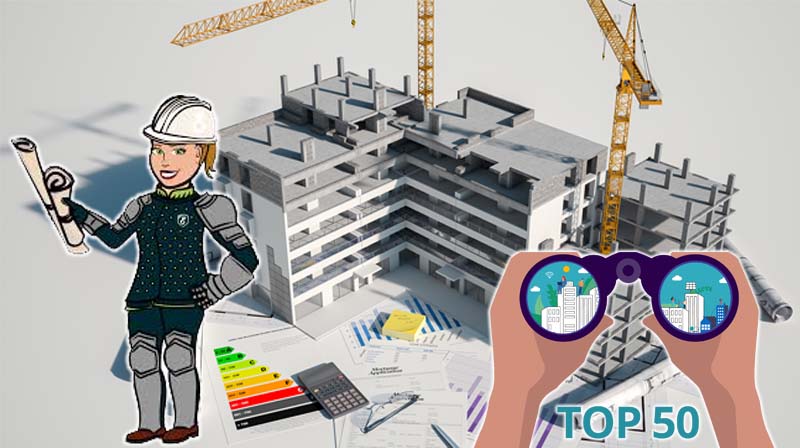 If you are a broker, property developer, or even a real estate investor, you need to be well informed and understand the industry as a whole in order to know which developers are worth working with. No worries! NHMC has reported the top 50 multi-family developers as of 2023, which we'll show below. Let's check them out!
Top 50 Multifamily Developers

Rank 2023

Company Name
CEO
Units Owned 2023

Headquarter Office

1
MAA
H. Eric Bolton, Jr.
99.676
Germantown, Tennessee
2
Greystar Real Estate Partners LLC
Robert A. Faith
98.860
Charleston, South Caroline
3
Morgan Properties
Mitchell L. Morgan
93.594
King of Prussia, Pe
4
AvalonBay Communities, Inc.
Ben Schall & Sean Breslin
80.325
Arlington, Virginia
5
Equity Residential
Mark Parrell
79.594
Chicago, Illinois
6
Cortland
Steven DeFrancis & Jason Kern
77.407
Atlanta, Georgia
7
Nuveen Real Estate
Jay Martha
73.374
New York City, New York
8
Monarch Investment & Management Group
Bob Nicolls
71.661
Franktown, Colorado
9
The Related Companies, LP
Jeff Blau
71.184
New York City, New York
10
Edward Rose Building Enterprise
Warren Rose
69.567
Bloomfield Hills, Michigan
11
Essex Property Trust, Inc.
Michael Schall & Angela Kleiman
62.147
San Mateo, California
12
PGIM Real Estate
Catherine Marcus & Yetta Tropper
61.022
Newark, New Jersey
13
The Michaels Organization
John J O'Donnell
60.646
Camden, New Jersey
14
Camden Property Trust
Richard J. Campo & D. Keith Oden
58.702
Houston, Texas
15
Weidner Apartment Homes
W. Dean Weidner
58.556
Kirkland, Washington
16
Harbor Group International, LLC
Jordan Slone
58.519
Norfolk, Virginia
17
UDR, Inc.
Tom Toomey
58.374
Highlands Ranch, Colorado
18
Lincoln Property Company
Tim Byrne
55.147
Dallas, Texas
19
Bridge Investment Group
Colin Apple & Matt DeGraw
54.712
Sandy, Utah
20
JPMorgan
Brett Kahn
54.506
New York City, New York
21
BH Equities
Harry Bookey & Joanna Zabriskie
49.756
Des Moines, Iowa
22
Balfour Beatty
Christopher Williams
46.740
Malvern, Pennsylvania
23
FPA Multifamily
Gregory A. Fowler
45.200
San Francisco, California
24
GID
Gregory Bates
43.886
Atlanta, Georgia
25
TruAmerica Multifamily
Robert E. Hart
40.344
Los Angeles, California
26
The Olayan Group
Camile G. Saba
40.000
New York City, New York
27
Invesco Real Estate
Jackson Lapin & Greg Kraus
39.897
Dallas, Texas
28
Dominium
Paul Sween & Mark Moorhouse
39.591
Dallas, Texas
29
Fairfield Residential Company LLC
Richard Boynton
38.092
San Diego, California
30
Berkshire Residential Investments
David Olney & Alan King
37.036
Boston, Massachusetts
31
Heitman LLC
Maury Tognarelli
36.489
Chicago, Illinois
32
Independence Realty Trust
Scott Schaeffer & Farrell Ender
35.526
Philadelphia, Pennsylvania
33
American Landmark
Joe Lubeck
34.128
Tampa, Florida
34
Knightvest Capital
David Moore
33.727
Dallas. Texas
35
Mill Creek Residential
William C Macdonald
33.424
Boca Raton, Florida
36
Alliance Residential
Jay Hiemenz
32.417
Scottsdale, Arizona
37
Tides Equities
Sean Kia & Ryan Andrade
31.942
Los Angeles, California
38
The Millennia Companies
Frank Sinito
31.242
Cleveland, Ohio
39
Westdale Real Estate Investment & Management
Joseph G. Beard
29.800
Dallas, Texas
40
CWS Capital Partners
Steve Sherwood
29.710
Austin, Texas
41
GVA Management
Alan Stalcup
29.686
Austin, Texas
42
UBS Realty Investors
Matthew Johnson
28.700
Hartford, Connecticut
43
AEW Capital Management, L.P.
Jeffrey Furber
28.309
Boston, Massachusetts
44
The NRP Group
J. David Heller
27.908
Cleveland, Ohio
45
Sentinel Real Estate Corporation
Michael F. Streicker
27.705
New York City, New York
46
MG Properties
Mark Gleiberman
27.381
San Diego, California
47
Peak Capital Partners
Jeff Danley & Jamie Dunn
27.241
Provo, Utah
48
Waterton
David Schwartz
27.165
Chicago, Illinois
49
JRK Property Holdings
Jim Lippman & Bobby Lee
26.941
Los Angeles, California
50
Northland
Matthew Gottesdiener
26.599
Newton, Massachusetts
Okay, those are the top 50 multifamily developers as of 2023. And you may need more information about them. But we'll provide the information only up to the 10th ranking position. Here they are:
1. Mid-America Apartments (MAA)
Based in Germantown, Tennessee, United States, MAA ranks as the number one multi-family developer in 2023. They also have ownership interests in 300 communities, 101,986 homes, and 16 states. Turning properties into communities and apartments into homes is their true goal.
They serve as a real estate investment trust (REIT), which develops, redevelops, and also manages apartment communities, particularly throughout the Southwest, Southeast, and Mid-Atlantic regions of the United States.
2. Greystar Real Estate Partners, LLC
After ranking as the top multi-family developer across the United States as of 2022, Greystar now takes the second position in 2023. Based in Charleston, South Carolina, United States, they strive to provide an unforgettable experience in managing all product types, with a global development strategy and track record of roughly $32 billion.
With more than 803,000 units and student beds under their management globally, Greystar has the ability to leverage relationships into investment opportunities and a combination of local market expertise.
3. Morgan Properties
Headquartered in King of Prussia, Pennsylvania, United States, Morgan Properties consistently provides superior housing and services to people who are looking for pleasure residences. After holding the top workplace for purpose and values, Morgan Properties now ranks as the third-ranked multi-family developer in 2023.
Morgan Properties is not just a real estate developer; they also establish trust with several parties and communities in an effort to move forward together. There is no doubt that they invest in each other and their local neighborhoods through a program called "Caring. Sharing. Giving."
4. AvalonBay Communities, Inc.
Providing a modern apartment for living and giving all the pleasure of home, it's no wonder that Avalon takes the fourth position among the top 50 multi-family developers. Based in Arlington, Virginia, United States, Avalon will be great for you to work with.
With equal parts experience and vision, they have established a long-term track record of developing and managing distinctive residences in some of the best U.S. markets. Basically, their goal is to create a better way to live that is always focused on giving value to their investors, residents, and employees.
5. Equity Residential
Based in Chicago, Illinois, in the United States, Equity Residential offers a variety of incredible apartments spread across the most sought-after cities, such as Washington, DC, New York, Los Angeles, San Francisco, etc. So, you can get close to them.
Located in prime markets such as Boston, Manhattan, Washington, DC, etc., you can really start to improve your financial future with them through an investment. However, they don't only build value for their employees and residents, but also for their shareholders.
6. Cortland
Headquartered in Atlanta, Georgia, United States, Cortland offers a normal apartment living experience with thoughtful interior design. You can also get their best services and amenities—your fitness journey is one of them.
With more than 260 real estate assets they manage, Cortland is a safe investment object with promising benefits vertically. Available in metropolitan cities, it will be easy for you to find them and start investing with them.
7. Nuveen Real Estate
Nuveen Real Estate can be found in New York, United States. They actually offer solutions for a range of investors across the world. As one of the largest investment managers in the world, Nuveen currently stands as the seventh-best multi-family developer as of 2023.
Holding the certificate of TIAA, Nuveen has supported the financial futures of millions of investors who are growing their businesses, infrastructure, real estate, farm land, and forests. They're also strongly building long-term relationships with clients across the United States.
8. Monarch Investment & Management Group
With more than 300 communities and 2,200 team members, Monarch committed to providing enjoyable residences with pleasure amenities. Based in Franktown, Colorado, United States, they actively invite trusted investors to get a chance to grow together.
They are not only a broker and a property management company; they instead do research, acquire, operate, and maintain all of their properties spread across the most sought-after cities such as Kansas, Saint Louis, Minneapolis, Lexington, and many more.
9. The Related Companies, LP
Based in New York, the Related Company eventually takes the ninth position as one of the top 50 multifamily developers across the United States. They keep delivering memorable experiences and boosting happiness to everyone through their residences.
With over 2,500 employees across the offices in the United States, Related is committed to building communities and enriching people's lives. To make residents' lives enjoyable, they also put the artwork into their daily lives. It aims to boost and empower individuals and their communities.
10. Edward Rose Building Enterprise
The Miami-based multi-family developer, Edward Rose, keeps a privately held real estate development company by providing brand new luxury apartment communities across the United States. For more than 100 years, they have developed thousands of multifamily residences throughout surrounding states.
With more than 2,000 employees, they always offer fun, sophisticated, and friendly neighborhoods. On average, their units have easy access to shops, restaurants, and other public places.