Innovative strategies are important for real estate sellers to reach potential buyers. As the real estate market keeps growing day by day, online platforms have become useful tools for agents to connect with clients. One of the most popular online real estate marketplaces called Zillow offers a program to assist real estate professionals in boosting their business. The name of the program is Zillow Premier Agent. In this post, you will be able to find about the cost of Zillow Premier Agent and how to estimate it.
About Zillow Premier Agent
Zillow Premier Agent is the name of a program offered by Zillow to connect real estate agents with those who are interested in buying and selling homes on Zillow. A Zillow Premier Agent will be able to showcase their profile and listings in the areas they serve, making them easier to be found by potential clients that are looking for properties. If there is someone who is interested in a property, they may be directed to reach out to a Zillow Premier Agent if they want to get more information about that specific property.
Cost of Zillow Premier Agent
The cost of Zillow Premier Agent varies depending on some factors. The first factor is ZIP code. Every area is unique because it has its own pricing plan that is based on the number of home buyers who are active in that area. For instance, the metro areas that have high traffic are usually more expensive compared to rural areas. However, if the interest in a certain area increases all of sudden, the cost of Zillow Premier Agent will also increase.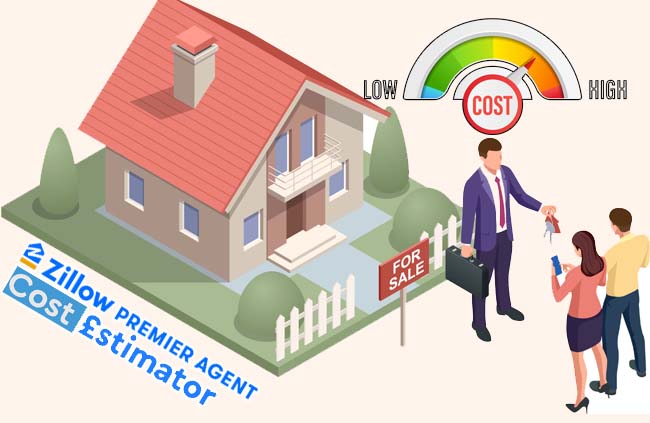 The second factor that makes the cost of Zillow Premier Agent varies is the amount of active Zillow Premier Agent at a given time. On the official website of Zillow, there is an advertising page with a space for only three Zillow Premier Agents. All the Zillow Premier Agents will have to compete against each other to be advertised in these limited spots. The chance of them to get one of these spots is higher if they are willing to spend more on these ads. This is another factor that can increase the cost of Zillow Premier Agent.
Due to the dynamic pricing system, it is hard for Zillow to state the price estimates, which is unfortunate. For your information, the cost for advertisement should be paid in advance. The rule is always like this and there is no exception.
As the cost of Zillow Premier Agent varies, Zillow recommends the interested agents to complete a contact form found on its official website. Aside from that, they can also call 855-657-6611. These are recommended instead of quoting a price on its website.
Estimating the Cost of Zillow Premier Agent
According to some third parties that have estimated the average cost for the Zillow Premier Agent program to be about $200 a month or between $20 to $60 per lead. However, it is actually not easy to estimate these averages because the cost to subscribe to the Zillow Premier Agent program will vary depending on the ZIP code sales, the competition or the number of real estate agents in a certain ZIP code, and the budget spent by these agents on ads. Check out for the details below:
1. ZIP code
Remember that your leads will cost more if you choose a ZIP code in Zillow that has a high average sale price. For instance, leads in a Malibu Zip code will be more expensive compared to leads in Charleston because the average home price in Malibu is more than $5 million while in Charleston is only $260,000.
2. Market competition
The more Zillow Premier Agents in a ZIP code the cheaper the cost. For example, there are three Zillow Premier Agents in a ZIP code near Los Angeles and three of them have spent the same budget for ads on Zillow. In this case, the available leads will be equally divided between these three agents.
3. Budget for ads
One of the factors that determine the cost of the leads is the ads budget spent by the Zillow Premier Agent. This one is the only factor that can be controlled by the agent. It means there is no way for the agents to control the other two mentioned above. If an agent spends more on ads, they will get a greater share of leads in Zillow. For example, if agent A has a total of $100 to spend on ads while agent B is willing to spend twice the amount, then the latter will get twice the amount of leads in that certain ZIP code. The more the agent spends on ads, the more money the clients have to spend for the agent.
Bottom Line
In conclusion, the cost of Zillow Premier Agent varies depending on a few things such as the area, the average home price, and competing agents in that area. For anyone who is interested in Zillow Premier Agent, you are suggested to visit the official website of Zillow at Zillow.com or to call 855-657-6611.