The presence of online real estate and rental marketplace makes people easy in finding house for living in. In the United States, there is Zillow and then in the United Kingdom there is Rightmove. Now, have you ever heard about Zoopla? Same as Rightmove, Zoopla is also one of property websites in the United Kingdom.
Zoopla focus on empowering users with the resources they need to make better-informed property decisions. They can help consumers find their next home and research the market by combining hundreds of thousands of property listings with local information, market data, and also community tools. In Zoopla, everything is transparent and their goal is making the market more efficient for both property consumers and advertisers alike. Zoopla was launched in 2008 and it has been one of the fastest growing websites in the UK.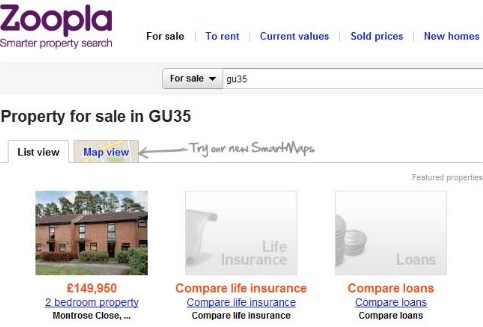 Now, it can attract more than 40 million visits per month. Because of their great work, they achieve one of the Top UK Tech Companies (Guardian) and one of the Top 10 Most Innovative UK Companies (Smarta). How to find property for sale in Zoopla? It is very simple. First, you have to visit the official website of Zoopla at www.zoopla.co.uk. In the home page, you will be able to see a search box. Then, you have to choose the options whether you look for property for sale, to rent, or house prices and values. If you look for property for sale, then you can choose "For sale". In the search box, you can enter the city or county. Then, under the search box there are some drop down menu that you have to choose including min price, max price, property type and bedrooms. After choosing the drop down menu, then you can hit the orange Search button.
If you want to get the more specific results of property, before you hit the Search button, you can click on "Advanced search options". By clicking this, there will appear some more fields that you need to fill in including distance from location, added, sort by, keywords, include: new homes, shared ownership, retirement homes, and auctions. By filling in these fields, you will be given the results more specifically based on your preference. You can also search homes for sale without having to fill in the forms but only entering the name of city. For instance, you will move to Oxford, so you are able to enter "Oxford" in the search box. Then, you will see the results of homes for sale in various prices. Here are some of the results.
A 3 bed semi-detached house for sale at Arlington Drive, Old Marston, Oxford OX3. This house has 3 bedrooms, 1 bathroom, and 2 reception rooms. It has double glazing and gas central heating, open plan kitchen, gated off-street parking, timber garden studio/ office and more. It costs £450,000. If you are interested, you are able to contact the agent at 01865 680778.
A bed semi-detached house for sale at Rose Hill, Oxford OX4. This house has 4 bedrooms, 2 bathrooms and 2 reception rooms. It also features arranged over three floors, dining room, two allocated parking spaces, and private sitting room. The cost is £325,000. If you are interested, you are able to contact the agent at 01865 680781.
For more results, you are able to visit the official website of Zoopla now and find your dream home.